All Natural Weight Loss Program
Our certified consultants work with you on your weight loss program to create your personalized combination of M'lis Nutritional Supplements.  We also guide you on an eating program to maximize your results.  Of course, it works best when you exercise a couple times per week. We will help guide you on your weight loss journey so you will shed excess pounds safely. The program price will be determined based upon your desired results after a thorough consultation. Not only do we recommend M'lis, we use it ourselves every day.  Couple this with a Contour Body Wrap to show off your results.  Our clients often lose a minimum of 10 lbs of body fat in one month.
All Natural Weight Loss Kit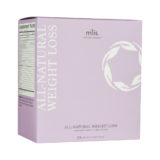 Drop and keep unwanted pounds off along with a sensible diet and exercise. Each packet contains a stack of supplements to boost your bodies natural processes to safely lose excess weight. These supplements help your body increase energy and trim stubborn fat giving you long-lasting results.
Promotes clean living
Increases your energy
Trims stubborn fat
Each weight loss pack contains:
7-Keto DHEA: Helps to improve lean body mass, trim the bulge from your belly and promote increased energy levels.
Green Coffee Bean Extract: Encourages the body to use unwanted fat for energy.
Raspberry Ketones: Enables your body to burn fat easier.
Extra Strength Tonalin CLA: Speeds up weight loss and keeps fat cells from getting bigger.
Appetite Appeaser & Suppressant: Suppresses "feed me now" urges – PLUS – appeases the appetite all day long by stabilizing blood sugar levels.
Use
Take two packs each day. One ½ hour before breakfast and one ½ hour before lunch.
*Results may vary from person to person*