Congratulations!
You are about to redeem your gift card.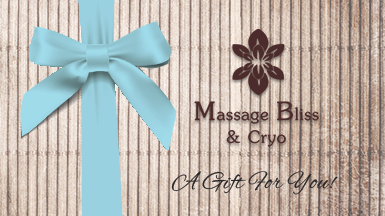 Receive a complimentary $25 gift card to be applied toward your first visit at Massage Bliss & Cryo!
To redeem your gift, simply complete the form and click submit. You will receive a confirmation email. Print the email and call us to make your reservation.
We look forward to helping you look and feel your best!
Gift cards must be used on purchases over $100. Offers can not be Combined with other offers.
Gift Cards can only be used at Massage Bliss & Cryo, and can not be redeemed for cash value.
Massage Bliss & Cryo may contact you to help you book an appointment.