In line with our commitment to be a one-stop shop for wellness, beauty and recovery, Massage Bliss and Cryo is proud to offer premier chiropractic care. Conveniently located in Sachse, TX, at Massage Bliss and Cryo, patients can receive regular chiropractic adjustments without a lengthy commute into a major metropolitan area. Resident chiropractor, Dr. Sharon Dunagan, brings over 30 years of experience to her onsite practice. Her steadfast commitment to improving a patient's overall quality of life, combined with her skill in providing holistic, compassionate care, make her a perfect fit for our wellness center.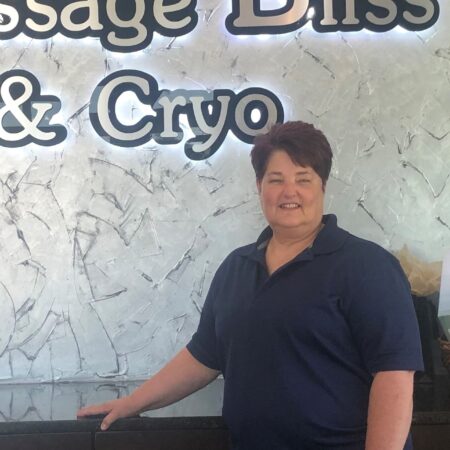 Leading Chiropractic Adjustments
Chiropractic care focuses on the human musculoskeletal system.  It can effectively treat bone, muscle and joint pain.  Seeking to identify the sources of pain, chiropractic care is designed to not only treat immediate issues, but also make corrections so as to avoid future pain.  Using specific manual adjustments and targeted techniques that focus on the structural integrity of the body, chiropractic care is designed to produce long-term results.  Chiropractic treatment is often an alternative to pain medication, though it can be an adjunct to traditional medical care.  At Massage Bliss and Cryo, we focus primarily in the use of three leading chiropractic techniques:
Diversified (DCT) – a traditional chiropractic application that uses high-velocity, low-amplitude thrusts to induce cavitation of a joint
Thompson Drop –  the incorporation of a specialized, segmented table to facilitate the opening of joints during treatment
Activator Method – the utilization of spring-loaded appliances to deliver more targeted manipulation, when warranted
Sports and Fitness Chiropractic Care
Whether you are a competitive athlete, a weekend warrior or easing your way to greater fitness and health, chiropractic care can ensure you stay on top of your game.  Sports-focused chiropractic therapy can treat injuries, ease pain, promote healing and boost performance.  Modalities will vary based on the situation, but treatment might include stretching, soft tissue work, dry needling, muscle adhesion and scar tissue scraping, deep massages, traditional chiropractic adjustments and techniques designed to increase range of motion.
Injury Recovery
When you are injured, you want to get back to overall wellness as quickly as possible. Chiropractic care can help you get there safely. It begins with a thorough assessment of why you are experiencing the pain.  Importantly, sports chiropractic care can prevent injuries that may result from misalignment and overcompensation due to injury or fatigue.  The chiropractic practitioner finds and treats the source of the pain.  S/he puts a plan in place for healing and educates you on any changes necessary to stay injury-free.
Competitive Advantage
When you are looking for an edge, chiropractic care can help with post-workout recovery and strength conditioning.  Targeted therapies can boost joint strength, soothe muscle soreness and improve circulation to promote faster healing and recovery.  As with injury recovery, the chiropractor will guide you through alterations designed to keep you from getting injured as you progress.
Benefits may include:
Reduces muscle spasms
Reduces recovery time
Enhances immune system
Improves oxygenation
Increases nutrient flow
Reduces stiffness and pain
Promotes relaxation
Improves digestive function
Improves athletic performance
Encourages tissue regeneration
Chiropractors may also help relieve pain or symptoms related to:
Arthritis
Chronic Fatigue Syndrome
Colic
Frequently occurring colds or the flu
Gastrointestinal Syndrome
Multiple Sclerosis
Loss of Equilibrium
Scoliosis
Sciatica
Joint Disorders
Tendinitis
and MORE………
Dr. Sharon Dunagan

Dr. Sharon Dunagan grew up in Oklahoma.  From an early age, she wanted to be a doctor, though she didn't know what speciality she would choose.  Then, in high school, she was involved in an automobile accident.  Her medical doctor wanted to prescribe medications to manage her pain, but Dr. Dunagan was hesitant.   A friend suggested seeing a chiropractor.  She was treated and was able to walk without pain or medications after the first week of care. Dr. Dunagan had such a great experience with her chiropractor that she decided she wanted to become one.
She began her journey at Northern Oklahoma College and later Oklahoma State University. She then attended Cleveland Chiropractic College in Kansas City, Missouri, graduating in 1990.  Upon finishing her board exams she moved to Illinois and practiced with a large multi-office group for a few years before moving to Texas, where she maintained private practices in both Richardson and Garland.  Today, with over 30 years of experience, Dr. Dunagan brings invaluable insights and seasoned skills to her patient care.
Dr. Dunagan lives in Wylie with her husband, daughter and several rescue pets. Her hobbies include reading, spending time with family, and watching sports, her favorites being football, soccer and hockey.
Frequently Asked Questions About Chiropractic Care
OFFICE HOURS
Sun: 12:00-4:00 pm
M, W, Th: 9:00 am-1:00 pm & 4:00-7:00 pm
Fri: 9:00 am-1:00 pm
PRICING
Session Options:
First Visit: $35
Single Session: $45
3 Sessions / Month: $65 – "Use it or Lose it" (MEMBER ONLY OFFER)
5 PK Sessions: $150
10 Pk Sessions: $275
Student Physicals: $25
Ask about special discounts for Veterans, 1st Responders and Teachers.