What Is Massage Therapy?
    Massage therapy includes the many techniques used during a massage. The massages performed depend on what your needs are. Generally, massage therapy is used as a type of alternative medicine; in order to treat several different conditions.
Massage Packages

10% OFF THE ORIGINAL VALUE
Pure Bliss Massage | 1 hr 50 minute treatment

+ 15 min. NormaTec
+ 80 min. Signature Bliss Massage  w/ Hot Stone or Thai Herbal Ball Upgrade
+ Complimentary Aromatherapy Oils
+ Light Snack
$162  |  Loyalty Program Price $130.5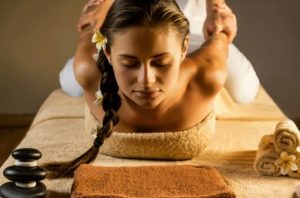 Pure Harmony | 2 hr treatment

+ 50 min. Signature Hot Stone Massage
+ Signature Classic Facial w/ Microdermabrasion
+ Light Snack
$193.50  |  Loyalty Program Price $157.50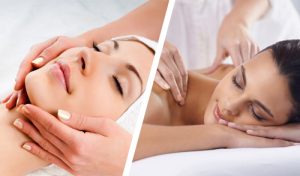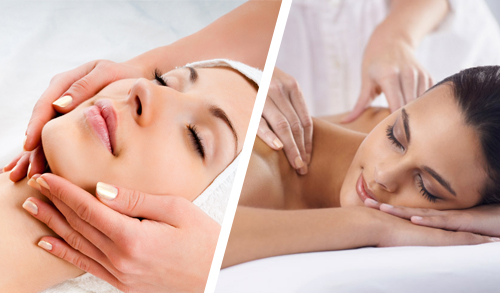 Recovery |

+ 15 min. NormaTec
+ Cryotherapy Session
+ Therapeutic Massage w/ Hot Stones or CBD Oil Upgrade
50 min | $139.50  |  Loyalty Program Price $112.50
80 min | $180  |  Loyalty Program Price $144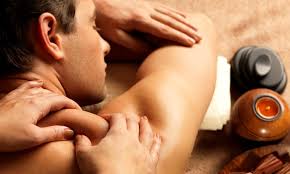 Drift Away |

+ 15 min. NormaTec
+ Signature Hot Stone Massage w/ Coconut Scalp Massage
+ Light Snack
50 min | $121.50  |  Loyalty Program Price $99
80 min | $157.50  |  Loyalty Program Price $126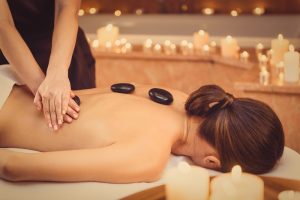 Massage Prices:
25 min. – On The Go Massage
$45  |  Loyalty Program Price $35
Upgrade to a Therapeutic Massage   +$10
50 min. – Customized Classic Massage
$85  |  Loyalty Program Price $65
Upgrade to a Therapeutic Massage   +$10
80 min. – Enrich Your Mind & Body
$125  |  Loyalty Program Price $95
Upgrade to a Therapeutic Massage   +$15
110 min. – Fully Restored
$165  |  Loyalty Program Price $125
Upgrade to a Therapeutic Massage  +$20
Enhancements involve you having an added experience to your massage and may include some extra products. Notably, they do not add to the length of the massage.
Add Cryotherapy to your Treatment  |  $25
CBD Oil  |  $25
Thai Herbal Balls  |  $25
Hot Stone  |  $20
Aromatherapy Oils  |  $15
Foot Ritual  |  $15
Coconut Scalp Ritual  |  $15
Biofreeze Application  |  $15
Swedish massage is one of our most popular general-purpose massages. During a massage, you will find your nerves loosening and your troubles slipping away. Massages have many health benefits beyond bliss you encounter at a day at the spa. These benefits include lowered blood pressure, lowering headache pain, and can even help you sleep better.
Manual Lymphatic Drainage (MLD); is a type of gentle, rhythmic massage that focuses on lymphatic vessels and is useful for most pre- and post-operation recoveries. Additionally, check for any specials we may have.
Our maternity pillows allow for the belly to relax freely, while you enjoy the benefits of the massage. After your massage, your tummy area will receive special attention from your massage therapist. They will apply our premium blend of massage oils. This blend works to treat tight skin and reduce any future stretch marks.
Available in the 2nd and 3rd trimester only.
25 Minutes – On The Go Massages
Based on ancient Chinese theory, different areas of the feet correspond to different parts of the body. This treatment starts with a foot exfoliation. Pressure point nerve stimulation on the feet then works to re-balance the entire body.
Scalp massages are based on old Ayurveda techniques. Involving work on the head, face, neck, shoulders, and upper back. It is a deeply relaxing massage that provides many benefits. The massage nourishes hair, improves blood circulation and lymph flow to the head, and eases chronic head pain and neck problems. Also, it relieves insomnia, migraines, dry scalp, and itching, and stimulates sensory organs and the soul.
If you have some problem areas, but you don't have time in your schedule for an hour session, this is for you. An express massage is a quick and easy way to have a stubborn knot taken out or relax at the end of your workday or after you drop your kids off from school. Just tell your massage therapist what area of the body you want them to focus the massage on.
Because the Express Massage is with your clothes on you can get this massage with minimal interruption to your busy day. Even a short massage has shown to have many of the same benefits as a full-length massage.
Two Therapist Massages
**Two Therapist Massages cannot be reserved online.
Please

Contact Us

for more information. **
Four hand massage is when two therapists work on one client. A four-hands massage can be like experiencing two full-body massages at the same time.
Image a side-by-side massage where you can relax, de-stress and be with someone you love. This package includes signature romantic aromatherapy massage oils. Also, we recommend adding a signature gift package. Beyond that, we also can provide flowers in the room that can be taken home, and add rose petals on the massage tables. Any additions and upgrades that can be added to a Swedish massage can also be added upon request.
(A minimum of one-day advanced notice is required for our staff to order flowers).