Cryotherapy's many benefits include reducing cellulite, boosting metabolism, and helping with weight loss. Also, it can be used to even out skin tones and lower signs of aging. Athletes use cryotherapy as a way to speed up their recovery from injuries. Similarly, this treatment can be used to lower inflammation and swelling. Great for clearing muscle and joint pain, cryotherapy is used to help recover from surgery.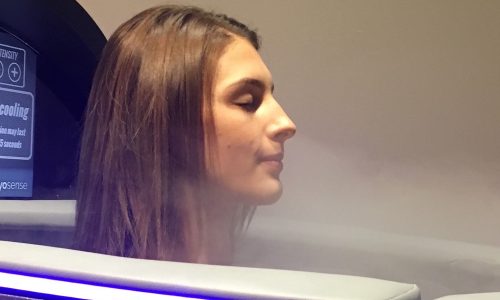 | | Wellness Program | |
| --- | --- | --- |
| Intro. Session | Not Available | $20 |
| Single Session | $25 | $35 |
| 3 Pack | $65 | $75 |
| 7 Pack | $125 | $150 |
| Unlimited Month | $175 | $225 |
     The hyper-cool air, part of the session is three minutes long. From the time you walk in, the entire session takes around 10-15 minutes.
     Inside the cryo-chamber, you are required to wear socks, slippers, gloves, and underwear. Other clothes are optional. If you feel more comfortable wearing a bra, make sure it is a sports bra since metal wires and clasps are not allowed. The more exposed skin, the more likely you will feel the effects of cryotherapy. Ideally, at least 85% of your skin is exposed to the hyper-cool air. We ask that you do not apply lotion or moisture to your skin an hour before your session. Jewelry and metals are prohibited below your chin.
     Your privacy will be respected. The technician will step out of the room while you change into the required clothing and enter the chamber. Once in, you will close the door and press a bell, alerting the technician that you are ready for them to enter the room again. The technician will then start the session.