Murphy, Texas Chiropractic Care
In line with our commitment to be a one-stop shop for wellness, beauty and recovery, Massage Bliss and Cryo is proud to offer premier chiropractic care. Conveniently located North of Murphy, at Massage Bliss and Cryo, patients can receive regular chiropractic care and adjustments without a lengthy commute into a major metropolitan area. Resident Murphy chiropractor, Dr. Sharon Dunagan, brings over 30 years of experience to her onsite practice. Her steadfast commitment to improving a patient's overall quality of life, combined with her skill in providing holistic, compassionate care, make her a perfect fit for our wellness center.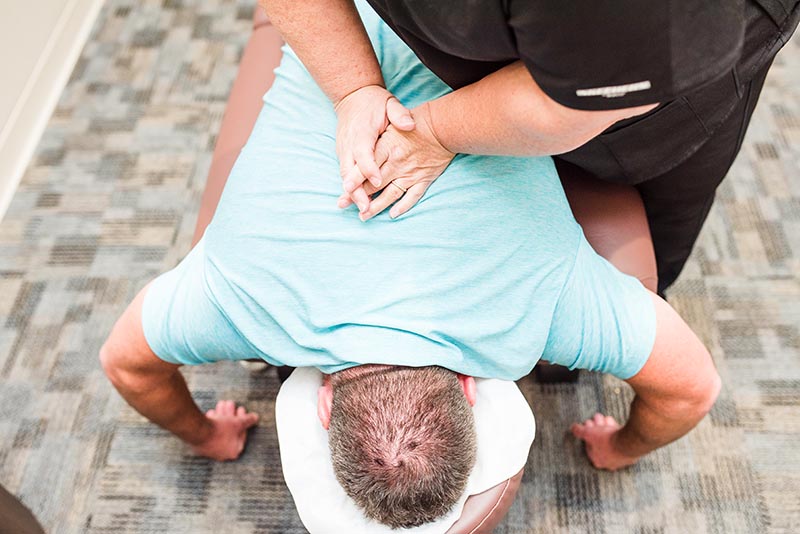 Leading Chiropractic Care Near Murphy
Chiropractic care focuses on the human musculoskeletal system. It can effectively treat bone, muscle and joint pain. Seeking to identify the sources of pain, chiropractic care is designed to not only treat immediate issues, but also make corrections so as to avoid future pain. Using specific manual adjustments and targeted techniques that focus on the structural integrity of the body, chiropractic care is designed to produce long-term results. Chiropractic treatment is often an alternative to pain medication, though it can be an adjunct to traditional medical care. At Massage Bliss and Cryo, we focus primarily in the use of three leading chiropractic techniques:
Diversified (DCT) – a traditional chiropractic application that uses high-velocity, low-amplitude thrusts to induce cavitation of a joint
Thompson Drop – the incorporation of a specialized, segmented table to facilitate the opening of joints during treatment
Activator Method – the utilization of spring-loaded appliances to deliver more targeted manipulation, when warranted
Murphy Chiropractor Benefits
The benefits of chiropractic care are numerous. It can be successful in:
Reducing muscle spasms
Reducing recovery time
Enhancing the immune system
Improving oxygenation
Increasing nutrient flow
Reducing stiffness and pain
Promoting relaxation
Improving digestive function
Improving athletic performance
Encouraging tissue regeneration
Chiropractic care has been proven widely effective in the treatment of multiple ailments. Every individual is unique, but a chiropractor can often help relieve pain or symptoms related to:
Arthritis
Chronic back and neck pain
Chronic Fatigue Syndrome
Colic
Frequently occurring colds or the flu
Gastrointestinal Syndrome
Multiple Sclerosis
Loss of Equilibrium
Scoliosis
Sciatica
Joint Disorders
Tendinitis
And more….
Meet Dr. Sharon Dunagan
Dr. Sharon Dunagan grew up in Oklahoma. From an early age, she wanted to be a doctor, though she didn't know what specialty she would choose. Then, in high school, she was involved in an automobile accident. Her medical doctor wanted to prescribe medications to manage her pain, but Dr. Dunagan was hesitant. A friend suggested seeing a chiropractor. She was treated and was able to walk without pain or medications after the first week of care. Dr. Dunagan had such a great experience with her chiropractor that she decided she wanted to become one.
She began her journey at Northern Oklahoma College and later Oklahoma State University. She then attended Cleveland Chiropractic College in Kansas City, Missouri, graduating in 1990. Upon finishing her board exams she moved to Illinois and practiced with a large multi-office group for a few years before moving to Texas, where she maintained private practices in both Richardson and Garland. Today, with over 30 years of experience, Dr. Dunagan brings invaluable insights and seasoned skills to her patient care.