What Do You Get From a Day at the Spa?
One of our most popular spa packages is the Day at the Spa combination. Spend a blissful three-and-a-half hours being pampered, treated, and renewed. The Day at the Spa includes the following elements: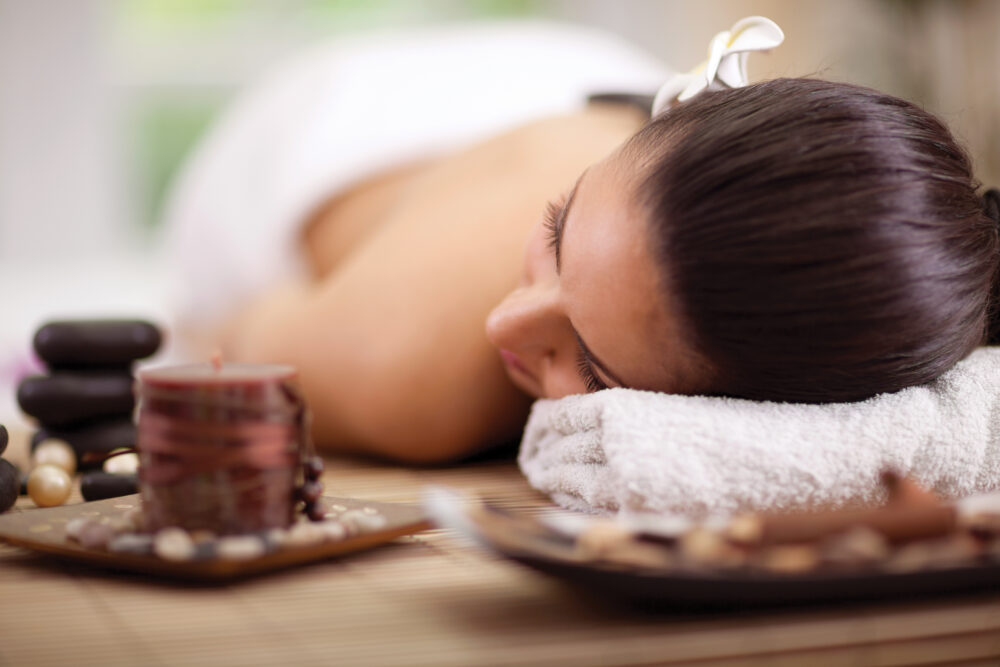 15 Minutes of NormaTec
Compress away your aches and pains with 15 minutes in the NormaTec chair. This form of compression therapy is used by athletes to help them recover faster. The attachments on the system can go on your legs, arms, and hips. Working in segments, it compresses your body through pulses.
Cryotherapy Session
Enjoy a session of cryotherapy, which is also used by athletes to help them recover from injury. The therapy treatment works well on muscle and joint pain, reduces swelling, and boosts metabolism. You may even notice an improvement in skin tone. What happens? Your skin is enveloped in hyper-cool air for three minutes inside the cryo-chamber. The entire session takes between 10 and 15 minutes.
80 Minutes of our Signature Bliss Massage
Using hot stones or a Thai Herbal Ball upgrade, our trained therapist relieves muscle tension, reduces stress, and helps your entire body relax. Massage therapy benefits so many aspects of yourself, including your state of mind, your level of pain, and your blood pressure. A day at the spa would not be complete without this effective, beneficial, blissful massage!
Complimentary Aromatherapy
As you enjoy your day at the spa, we will relax and entice you with aromatherapy. Unique scents with the ability to soothe your senses fill the atmosphere during your stay.
Seaweed Hydrating Body Wrap
Our body wrap tones your skin and helps you detox your system. It also feels fabulous! Exfoliate, wrap, hydrate, smooth, and relax.
Custom Facial with Microdermabrasion
Address your specific skin issues with our custom facial. Everyone has a different face, which means your facial should include products and techniques that are personalized. You'll also get a microdermabrasion treatment, which means our therapist will gently sand your skin to rejuvenate it and even out your skin layers. A custom facial helps you look your best, so you can leave your day at the spa sporting a healthy glow.
Light Snack
We feed your body, soul, and stomach. A light, healthy snack ensures your day at the spa isn't marred by hunger.
Want to treat yourself or a friend to a Day at the Spa? Contact us for more information or to reserve your appointment.